A three-month trend of increasing rent delinquency rates across the U.S. breaks another 2023 record, as nearly four out of every 10 owners of small businesses say they couldn't afford to pay their April rent in full and on time.
The Alignable April Small Business Rent Report, shows that 39% of SMB owners nationally are behind on their rent, up one percentage point from 38% in March, and up nine percentage points from just 30% in January.
This marks a new record high for 2023, showing that the economic struggle for many small businesses has intensified significantly over the past few months.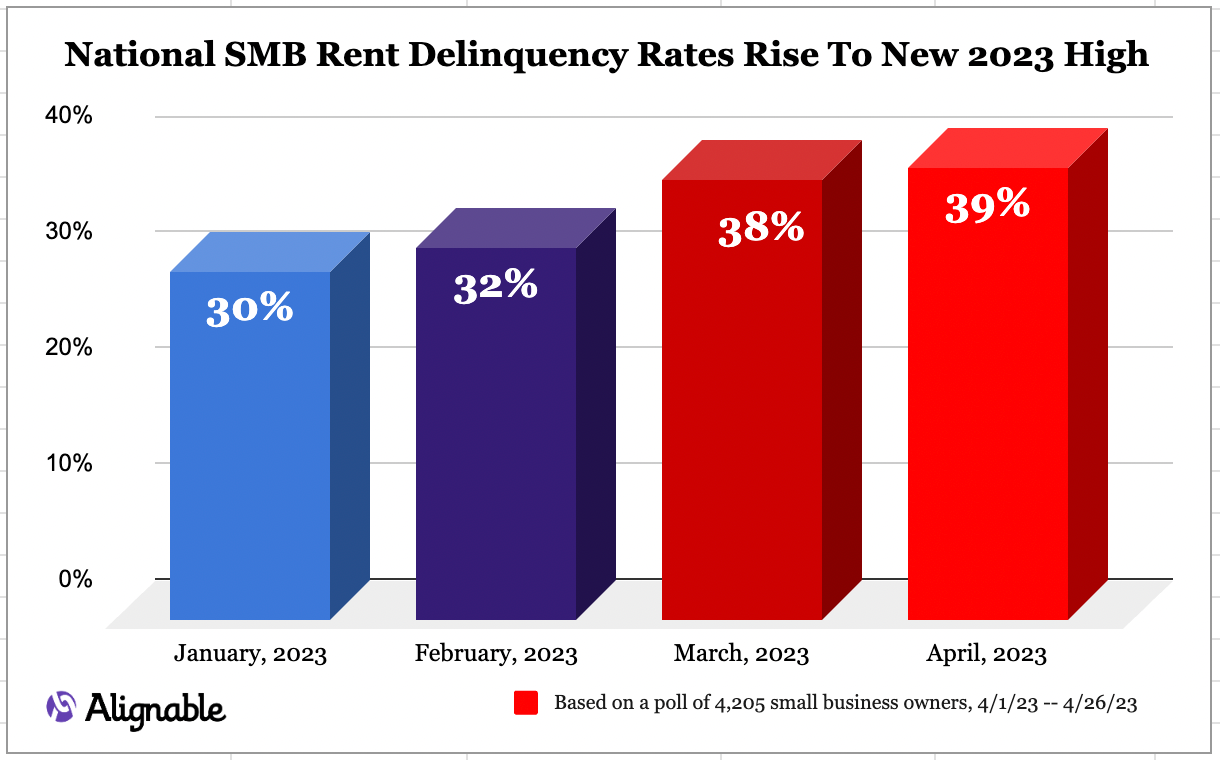 Beyond that, small businesses in many industries saw a significant surge between March and April:
Transportation firms jumped five percentage points to a delinquency rate of 53%.
Restaurants, which appeared to stabilize in March, lost a lot of ground in April, ending 15 percentage points higher. Nearly half of independent restaurant owners (49%) couldn't pay their full rent this month.
Manufacturers jumped 17 percentage points to a delinquency rate of 41% from March to April.
Rounding out the Top 4, 41% of retailers also couldn't cover April's rent in full and on time.
Much of this data is based on an Alignable Rent Poll conducted among 4,205 randomly selected small business owners from 4/1/23 to 4/26/23. Other insights came from past surveys taken over the past year and a half among 75,000+ additional respondents.
Rent Spikes & Landlord Success Match Higher Delinquency
The reasons for the increased rent delinquency include a steady lift in the amount of rent small businesses must now pay.
Tracking the past four months, rents have increased for a higher percentage of SMBs every month this year.
In January, 47% said they were paying more for rent than they did six months earlier.
That number jumped to 51% in February, 52% in March, and finally 53% in April.
This month, of that group, 12% say their rent is at least 20% higher than it was in Q4 2022.
Beyond those statistics, a higher percentage of landlords, often small business owners themselves, report that they are "thriving," now charging the amount of rent they need to combat inflation and the massive losses many incurred during COVID.
During past polls, many landlords who gave tenants a major break on the rent reported that they were really suffering. Many needed to make up for lost rent and lost time — and some still do.
However, as of this month, 49% of landlords polled said they're prospering now vs. just 45% in January. So, at least they're experiencing an economic rebound.
More Reasons Why Rent Delinquency Is Up
While increased rent is adding to the delinquency problem, it's not the only cause.
Those polled blame a combination of factors, including reduced revenues, supply prices, the cumulative effects of higher-than-usual inflation, increasing interest rates, rising gas prices, and a more difficult time accessing financing after several high-profile bank failures.
Here are supporting statistics further illustrating the current condition of the small business economy:
48% of SMB owners polled said they are earning half or less of what they generated a year ago on a monthly basis. Only 20% are growing significantly compared to 2022.
Though the overall inflation rate has cooled, 75% of small business owners surveyed said they have felt no relief yet, noting that inflation remains high, it's still cutting into their margins, and the negative effects are cumulative.
80% replied that their supply costs are much higher now, than they were this time last year. Of that group, 21% said they're paying at least 25% more for supplies now.
53% of SMB owners said they are "highly concerned" about rising gas prices over the past month or two, noting that these added expenses have already hurt their businesses.
47% who are applying for financing said it's more difficult now to get a loan than it was prior to the recent bank failures.
Which Industries Struggle Most With April Rent Issues?
As noted above, the top four sectors in the rent delinquency hot seat are transportation, restaurants, manufacturing, and retail — all above the already-high 39% national average for U.S. delinquency rates.
The following charts show more of the details and what's happened with these industries since March and even a year or more ago.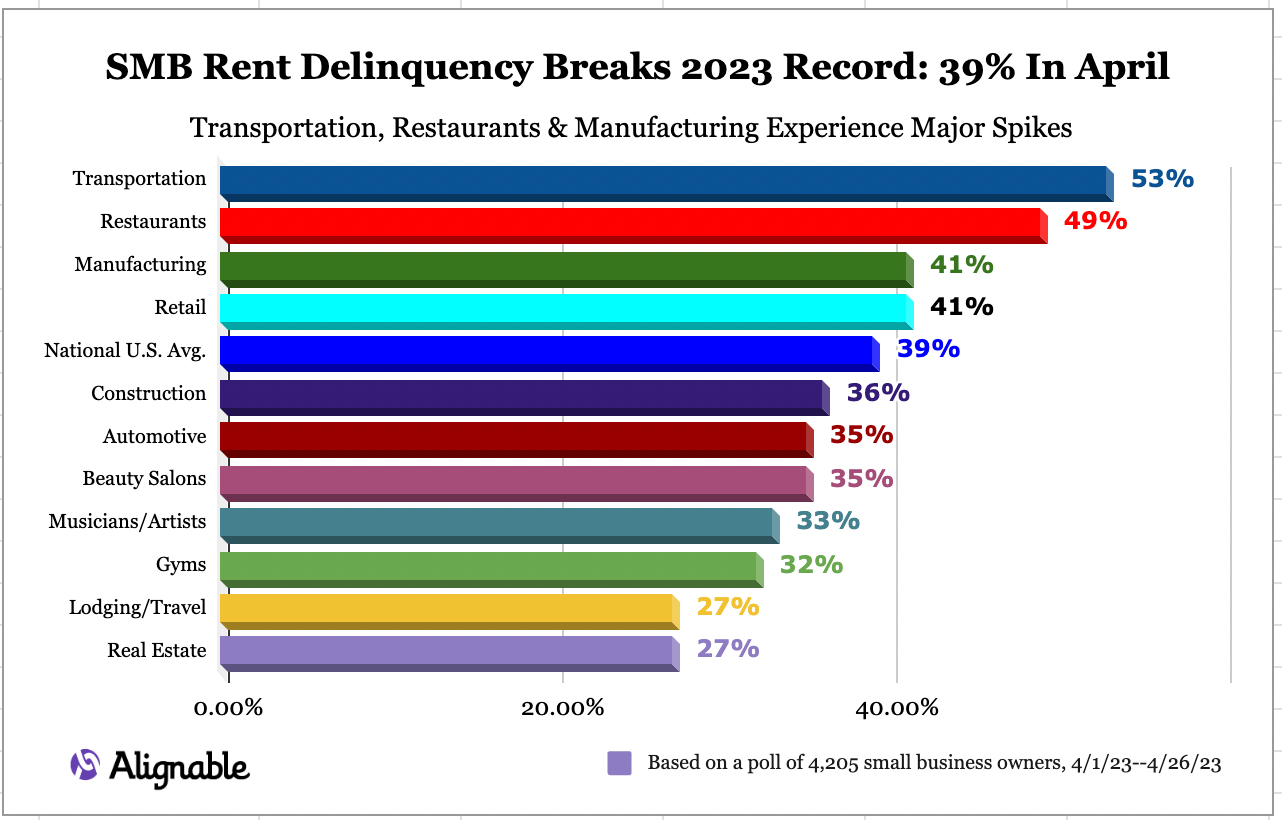 Increased month-over-month gas prices contributed to the five percentage point spike in rent delinquency among transportation companies — everyone from Uber drivers and truckers to limo services, taxi companies, and even larger trucking companies.
Other issues cited by these respondents include expenses for vehicles, repairs of those vehicles, and the scarcity of parts required for repairs, as well as high labor costs.
It was encouraging last month to see that more restaurants were rebounding in terms of both rent issues and staffing. But it appears this rebound has been halted, at least for now.
Ongoing struggles with higher wages, as well as consumers having less disposable income for meals out, are hurting the restaurants yet again. Several owners also commented on rising rents.
Worst Month For Manufacturers In Over A Year
For manufacturers, the 41% rent delinquency figure is especially alarming, as it marks the highest rent delinquency rate in more than one year.
We will need to watch this closely, as manufacturers have been generally doing well paying the rent in January, February, and March. Their delinquency rates have been in the 20% to 25% range, which is generally quite low for these polls.
Digging deeper for April, skyrocketing supply costs, including the price of raw materials, transportation/trucking expenses and more are weighing heavily on some manufacturers.
41% Of Retailers Couldn't Afford To Pay The Rent
As far as retail goes, 41% remains high as a rent delinquency number. And many retailers are struggling to bring in more customers and counteract some consumers' dependence on Amazon and other huge online sellers.
But it does represent a drop of three percentage points since March, so maybe some of the #ShopLocal efforts many of us are involved in are helping a bit.
Obviously, though, a lot more needs to be done to help Main Street businesses survive and thrive, especially when this still-high 41% rent delinquency figure is actually a step in the right direction compared to where retailers were last month (at 44%).
Travel/Lodging Rebounded Nicely In April
That said, there were some much more promising developments in the education, travel/lodging and automotive sectors, showing some potential signs of stabilization.
Only 27% of the travel/lodging pros couldn't pay their April rent in full, down an incredible 21 percentage points from what can only be described as a "scary" March, with a delinquency rate of 48%.
But before we declare victory for any of those industries, we need to make sure these figures continue to improve in the coming months. Last month, travel/lodging topped the list in terms of small business industries suffering the most with rent delinquencies. Hopefully, with warmer months ahead, we'll see more travel/lodging pros able to afford and pay their rent in full and on time.
Moving from industries to different states, we also have seen some significant swings toward higher rent delinquencies, with only a few holding steady or improving their status.
Many Big States Suffered Rent Setbacks
They say everything's bigger in Texas and, unfortunately, for the Texans who participated in our poll, that was especially true when it came to rent delinquency this month.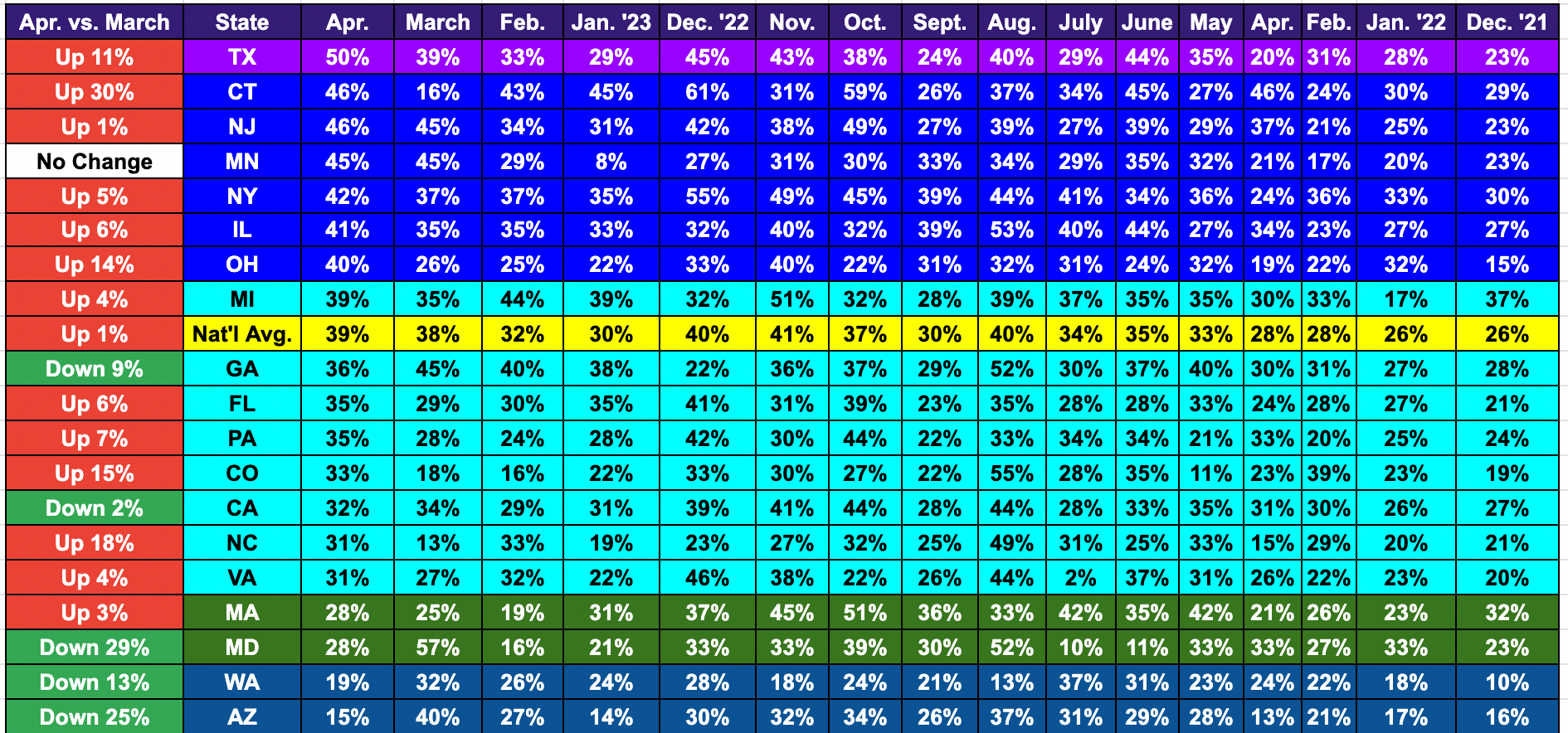 A staggering 50% of those polled from the Lone Star State said they couldn't afford to pay their full April rent on time and in full.That marked a dramatic 11 percentage point increase over March, and the highest rate Texas has shown in over 17 months of polling.
Our chart shows, similar to the national trend, that each month this year has seen greater economic hardship for small businesses in Texas.
In January, only 29% couldn't pay their rent in Texas, but those rates have worsened since, as 33% had problems in February, and 39% had trouble paying March rent. And now that number is 50%.
But most states saw increases in rent delinquency, and there are others with very high rent delinquency rates.
Second in line — Connecticut at 46%, with the highest surge (30 percentage points) on the chart. Many there said they're contending with higher rents, but also all kinds of other inflationary trends.
Tied with Connecticut for second place was New Jersey with a 46% delinquency rate, up 1 percentage point from March. Rent problems in the Garden State haven't been quite this severe since October.
Minnesota is holding steady with its second month in a row of a record high at 45%. That, too, is quite significant and worrisome.
42% Of NY-Based SMBs Couldn't Pay
After holding steady at 37% for a couple of months, New York's small business owners are now back up five percentage points to a delinquency rate of 42%, certainly reflecting increases in rents and other costs in one of the most expensive states in the country.
Similarly, Illinois-based small business owners saw a big jump of six percentage points after also holding steady around 35%. Now 41% of small businesses there couldn't afford their full rent, a significant increase.
Rounding out a few other Midwestern states, Ohio's small business owners saw a dramatic 14-percentage-point increase in their rent delinquency, bringing it from just 26% in March to 40% in April.
Michigan is up by four percentage points to 39%, matching the national average.
CO & NC: More States With Big Delinquency Surges
Other states with big spikes in April rent delinquency include Colorado, which was at a much more stable rate of just 18% in March. But now, its delinquency rate has jumped 15 percentage points to 33%.
It's still below the average, but that surge indicates that more economic pressures are bearing down on small business owners in Colorado.
North Carolina went from an all-time low in March of 13% to 31% in April (up 18 percentage points), while other states including Florida, Pennsylvania, and Virginia also saw higher delinquency rates among their small businesses.
But the surges were not as high as what occurred among small business owners in Colorado and North Carolina this month.
Improving Delinquency Rates in MD, AZ, GA, WA & CA
The only states on the chart that experienced decreases were Maryland, Arizona, Georgia, Washington, and California.
Maryland had a dramatic 29-percentage-point drop, from a high of 57% last month. To say the least, there's been a great deal of fluctuation among the small business owners in that state over the past several months, so May will be quite telling in terms of how they're contending with rent increases, inflation, and banking/credit issues.
Arizona also had a 25-percentage-point dip from a high of 40% last month, so all eyes will be on AZ, too, next month to see if this was just a positive blip or if the small business economy there is ready to rebound. Arizona currently has just a 15% SMB rent delinquency rate.
Other improvements in rent delinquency were seen in Washington State (down 13%) to a 2023 low of 19%, Georgia, (down 9%) to 36% (which is still high), and California, down two percentage points, to 32%.